This series is on current hiatus
'''This article is rated PG which means it is suggested for viewing for viewers over 8.'''
Jimmy Neutron: Sole Survivor
is a spin-off series created by
Chrisvader1234
. The series follow Jimmy Neutron and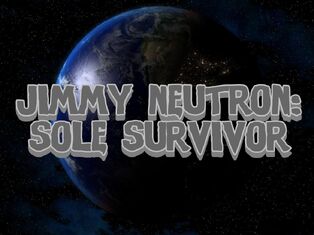 friend who gain powers who are some of the last survivors on the planet and have to find there parent who are captured by some of the worst enemies they have faced.
Characters
Edit
Hugh Neutron is the father of Jimmy Neutron. He is recently captured by Jimmy's worst enemies and location is undetermined.
Judy Neutron is the mother of Jimmy Neutron. She is also been captured by Jimmy's enemies and location is undetermined as well.
1. The Incident - By Chrisvader1234. Aired on December 27, 2012. (Hiatus Since Dec 25)
Jimmy Neutron accidently sets off a nuclear weapon that he had been experimenting with but it causes an explosion destroying most of the human race. Jimmy and his friends blast into space returning to a dark empty planet. They soon find out there parents survived and are captured by Jimmy's worst enemies. But with there new powers can they save there families!
This is the oldest spin-off.
This was originally named Jimmy Neutron: In Space.
You can still find the series card for Jimmy Neutron: In Space
Ad blocker interference detected!
Wikia is a free-to-use site that makes money from advertising. We have a modified experience for viewers using ad blockers

Wikia is not accessible if you've made further modifications. Remove the custom ad blocker rule(s) and the page will load as expected.