Fanon spin-offs are spin-offs created by users that are full of fiction of characters located in the series. Currently, there are only two spin-offs created listed below.
All * are featured articles.
Jimmy Neutron: Sole Survivor
is a spin-off series created by
Chrisvader1234
. It is a follow up of the original series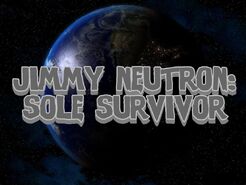 that includes that the Earth became wasteless after one of Jimmy's failed inventions. Now as the some of the last survivors of the human race they must locate there lost parents who have been captured by some of Jimmy's worst enemies.
Jimmy Neutron: Boy Genius Re-Energized is a spin-off created by superconnorkid8. Details so far are unknown.
Ad blocker interference detected!
Wikia is a free-to-use site that makes money from advertising. We have a modified experience for viewers using ad blockers

Wikia is not accessible if you've made further modifications. Remove the custom ad blocker rule(s) and the page will load as expected.